Strong coffee exudes an aromatic scent and makes caffeine lover's mouth watery. Espresso is one of the famous hot beverages and is quite well-known beyond Italy's borders. Whether pure, in latte macchiato, iced coffee, or in other mixed drinks. Espresso is hard to imagine life for many coffee fans. After all, it isn't difficult to prepare a good espresso at home. However, you cannot brew a healthy drink with an ordinary or manual espresso machine. Instead, it would help if you had a particular espresso machine. The technology ranges from simple to ultra-modern. Here you will find correspondingly recommended espresso machines in the test with kitchen primer.
What are different types of espresso machines?
1. Classic espresso pot: Simple and without much technology
A simple espresso pot is an original way of preparing the specialty coffee. The jug is mostly made of metal and is rather small in size. It is traditionally placed directly on the stove. If you buy your espresso pot, you should pay attention to what use that particular model of the pot is intended. The espresso pot is not a real espresso machine.
The beverage brewed with this pot is called "mocha." The difference to authentic espresso is in print. An espresso pot works with less pressure than an actual espresso machine. As a result, coffee also has other taste properties. You can checkout our guide on how to make frothy coffee at home.
First of all, the term espresso maker is a little misleading because this espresso has no crema. But the little black brew is a tasty alternative for everyone who wants espresso but is afraid to buy an expensive machine. Espresso pot is the most commonly used name for the Italian "Caffettiera." To clear up the confusion, the "Caffettiera" refers to only the pot, and the drink prepared with the help of it is called "Caffè." Caffè is a delicious and healthy coffee, which is espresso without crema. If you order a coffee in Italy, you get an espresso.
People from Italy refer to the espresso machine as "Bialetti" (more details) or "Moka." Alfonso Bialetti invented the Moka Express in the 1930s, which is the first aluminum espresso maker in the typical octagonal design. According to estimates, the Moka can be found in around 90% of all Italian households today and is as typically Italian as the Vespa and Fiat.
In addition to the classic aluminum variant, the Bialetti company now also offers stainless steel models. With such an espresso maker, induction is not a problem, and many people like the brilliant shine. Others argue that only aluminum provides a pure Italian aroma. Every coffee lover has to decide for himself.
How is coffee made in the espresso machine?
The espresso maker consists of four parts:
The kettle at the bottom.
The funnel insert above.
The riser pipe.
The top.
In addition to the actual espresso maker, you will need to have a coffee grinder and a kettle for brewing. You should fill the boiler with previously heated water if you want it to be heated fast.
Necessary: The water must be warm, but must not be boiling. When filling, it is essential to pay attention to the mark up to which the water is supplied.
Next, the ground coffee is traditionally by hand or with an electric grinder.
The freshly ground powder is filled into the funnel insert and lightly pressed on.
Insert the funnel into the lower part, put on the upper part, and screw the espresso machine together.
Place the device on the stove and heat over medium flame until you can hear the typical gurgling. The gurgling means that the heated coffee now rises through the riser pipe into the top part, the jug, and it is time to take the espresso maker off the stove.
Wait until no more coffee runs through the riser, stir the finished coffee briefly, pour it into cups, and enjoy!
Necessary: You should not brew coffee in excessive heat. Otherwise, it will take on an unpleasant metallic taste. Also, it should not remain on the stove for too long; else it will burn. If you are using an espresso maker that is operated electrically, then the steps remain the same. However, you need to place the stove on the heating unit rather than the gas stove. If you can't do without cream at all, use an old trick: skim off the very first rising coffee foam from the riser and stir it into an espresso cup with a spoonful of sugar. Later, the sweet foam gets added to the coffee as a crema.
Which types of coffee are suitable for espresso makers?
To cook a classic deep black "caffè," espresso and mocha varieties from Italy are recommended, for example, from ILLY, LAVAZZA, or KIMBO. As with other specialties, the same rule applies here: coffee lovers try out numerous types of beverages, roasts, and grindings, and settle down with the perfect drink. Searching opens up lots of different options, and you will find it interesting! Also, be sure to see our recommendations for mocha-makers in this post for specialised ones.
Which brands offer the best espresso makers?
There's nothing like the classic Italian Bialetti. In addition to the time-honored Moka Express, the company has developed some exciting alternatives for espresso lovers. The Bialetti Brikka, for example, generates a pressure of 6 bar and almost reaches the level of a portafilter machine. It is also equipped with a cream valve that can be used to produce the missing crema. The Venus is a slim, attractive device made of high-gloss stainless steel for everyone who likes it futuristic.
A tip: Consumer sites such as the Stiftung Warentest and Feinschmeckermagazin regularly report on how different espresso makers did in the test. These reviews can help you to find the right device.
What size should the espresso maker be?
The optimal size depends on the number of users. The Moka Express from Bialetti, for example, is available in six different sizes (1 cup, 2, 3, 4, 6, and 9 cups). For the single who likes to brew a delicious "caffè" at home, the smallest espresso maker is enough for a cup, for a couple, the 2-cup model. If you have a vast family or have guests over quite often, you can go with the larger model. One thing you should take care of is that the coffee should always run through the entire capacity of the machine. In a way, you cannot operate an espresso maker, "half-full." So it makes little to no sense to buy a 3-4 cup espresso maker if you have just a cup of espresso or two.
How are the espresso makers cleaned?
If you are using aluminum espresso machine, then they can only be hand-washed. You should disassemble the device entirely and clean the SEAL properly. This can be checked directly for wear and replaced if necessary. Stainless steel models are usually dishwasher safe. A look at the operating instructions provides information.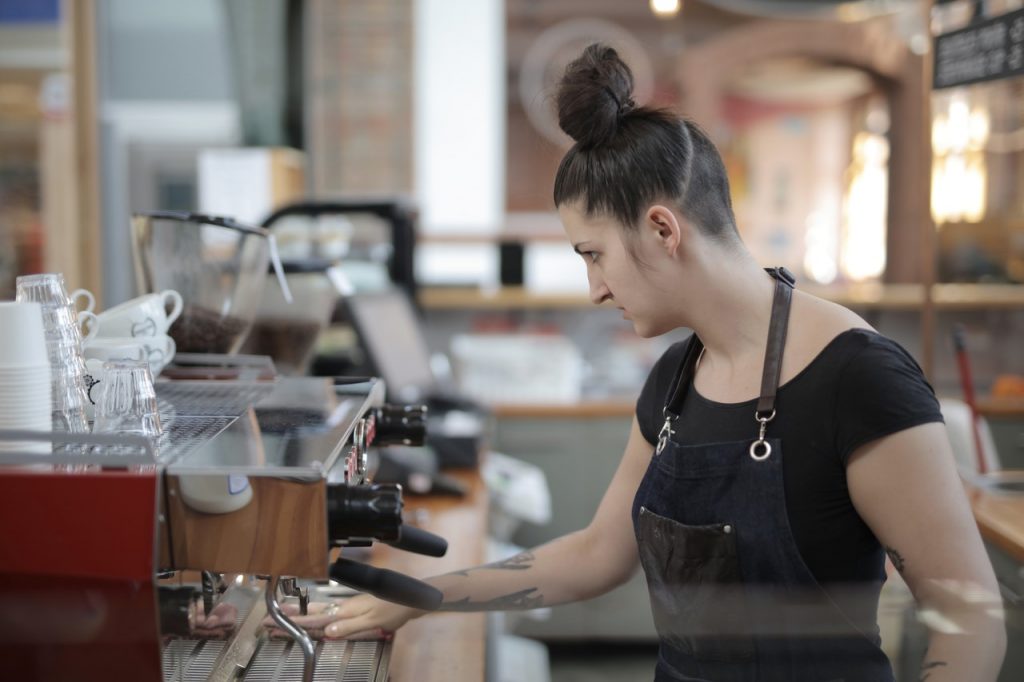 If you want to descale your machine, then gentle natural products like apple cider vinegar are the best options. Then boil water without coffee grounds to remove the vinegar residues, and nothing stands in the way of the next delicious cup of "caffè" from the espresso machine! We do have a guide to help you out on cleaning your Jura coffee machines, you can refer this article.
You can brew strong black coffee with an espresso maker and not espresso!
The great classic in Italian households is the aluminum Moka Express by Bialetti.
Younger stainless steel models are also suitable for induction cookers.
Electric espresso makers are perfect for the office or on the go.
You can create crema by using specific tips and tricks or use a cream valve on newer devices.
It doesn't always have to be an expensive, fully automatic coffee machine: with the traditional Bialetti, wonderfully full-bodied aromatic beverage is possible for the break!
2. Centrifuge espresso machine: Physics that tastes good
Centrifugal espresso machines use centrifugal force to build up the necessary pressure. The centrifugal force is a physical quantity. When you rotate an object abruptly in a circle, this force pulls moves the mass or the solids towards outer direction inside that object.
The principle is simple and effective. The water is pressed through the filter in the centrifuge espresso machine, which contains the fine coffee powder. Despite the centrifuges machine's impressive simplicity and excellent price-performance ratio, they have become quite rare today.
3. Espresso machine with grinder: From whole beans to espresso
Espresso machines with a grinder go one step further than most other mechanisms that you come across. They are not only able to brew the specialty coffee, but they also grind the pre-ground freshly. Coffee can lose its aroma due to long storage. The powder that you create from ground beans is more affected by the loss in taste/flavor. Some espresso machines with a grinder even roast the coffee beans freshly. As a result, individual settings are also possible in some cases. These machines are also referred to as bean to cup coffee makers due to the process. Do checkout our recommendations for this type of machines listed here.
4. Espresso machine with portafilter: Semi-automatic espresso machines
In a way, the portafilter is the heart of these machines. The crushed beans are present in it. Many devices with portafilter are semi-automatic espresso machines. They take over a large part of the process themselves, but still require a few simple steps. Hand lever machines are a particular subtype of portafilter machines. They do not need electrical equipment and are therefore ideal for occasional use. You can often see electric portafilter machines in restaurants, for example, in cafes, bars, and restaurants.
The performance and design of these devices stand out from that of a super-automatic espresso machine. However, the principle with which you work is quite similar. A portafilter machine is a type of equipment that is used to prepare espresso. Other devices for this are also centrifuge machines. There are also some subdivisions and differences within the category of the portafilter machine. The use of such super-automatic espresso machines works smoothly even for a newbie, provided you follow a specific set of rules.
Differences between portafilter machines:
You can find numerous classic versions of these semi-automatic espresso machines. However, there are are only a few renowned brands that users are familiar with and prefer while on the lookout. The most common types are manual espresso machines, semi-automatic espresso machines, fully automatic espresso makers, which in addition to making coffee froth milk as well.
Users can choose between many different models. Depending on how much power a device should bring with it, there are various advanced models of the portafilter machine available today. The selection promises numerous variants that include small and extensive extras. However, a good portafilter machine does not have to be able to do everything. Even the essential functions, i.e., a manual milk frother and the preparation of coffee, promises first-class enjoyment.
Handling a portafilter machine
A portafilter machine is easy to use. Only the filter holder is filled with the ground powder, pressed with a tamper, and turned into a thread. It is essential that a certain filling level is maintained and that the portafilter is screwed incorrectly on the machine.
These portafilter machines generate an extremely high amount of pressure, which presses the filled water through portafilter, so it is necessary to screw it properly. This removes all the essential components from the espresso powder in a portafilter machine, creating a tasty espresso or specialty coffee. It is, therefore, effortless to use.
However, you should cautious that due to the high amount of pressure generated, you should avoid making any mistakes. It is good that the machines can always withstand higher pressure than the 9 bar that is passed through the portafilter. The safety in the event of a malfunction is therefore guaranteed.
You can use portafilter as a home espresso machine to prepare Italian beverages. The way of making coffee differs fundamentally from German filter espresso, but also super-automatic espresso machines. Anyone who prepares their drink with a portafilter has a passionate relationship and always wants the best. It will take some time for you to get acquainted with super automatic espresso machines, but you will surely enjoy brewing it!
What is the difference between one-circuit and two-circuit systems?
The difference between a single-circuit and a double-circuit espresso machine can be explained quickly in a single principle: It depends on the number of water circuits that are installed in the portafilter machine. So, for the single-circuit device, there is just one present, whereas you will find 2 of them fit in a dual-circuit machine. But what does it exactly mean?
What difference does it make to the taste of my espresso?
For the perfect coffee, you need not only an excellent bean but also hot water. In a portafilter machine, the water is usually heated in a single boiler (exemption: dual boiler machines) and, if necessary, passed through the water circuit either for steam production or for brewing the espresso.
In these single circuit ones, the water for brewing and evaporation, which you need for frothing the milk, are pumped from the same network. As a result, these espresso machines take time after brewing until the cycle is ready for steam pressure production. Only then can the milk be frothed. Also, the system must be vented again after steaming. In a two-circuit machine, there are separate circuits for this so that it is possible to froth milk during the brewing process.
Accessories for PortaFilter machines
In addition to the right coffee grinder, there are several other accessories for portafilter/ espresso machines. There is, for example, the tamper or a complete tamper station, which serves to compress the coffee powder. A tapping box can also be purchased. As far as pricing is concerned, they are available in various pricing options. The following section will brief you to what is generally available on the market and what you should buy.
We are often asked which accessories for portafilter are necessary and what are gadgets that you can afford but do not necessarily need? We advise our customers to do the following:
To brew a pure espresso, you need a tamper with a metal base (this is often included in the scope of delivery for the high-quality portafilter), for hygienic disposal of the ground beans, you need at least one tapping box or, better, a brewing drawer.
To make tamping more comfortable, you should also get a tamper station, and for frothing milk, you need a milk jug of the appropriate size. We recommend our customers to buy a second, small jug, which you can use to pour the espresso into the frothed milk. With this basic set of portafilter accessories, nothing should stand in the way of your espresso enjoyment.
What care utensils are needed?
When dealing with a portafilter, it is not only the right accessories that are important but also proper care. As a specialist dealer, we have extensive experience of how you can enjoy your espresso machine for longer with proper cleaning and care.
You should clean your portafilter regularly to ensure longevity and cleanliness! The brew group, in particular, should be carefully cleaned of any residues after use. For this, we recommend a group round brush with which you can immerse yourself nicely in the circular recess of the brewing head and thus also remove deep-lying dirt. With a simple cleaning brush, you can clean your filter holder and the readily accessible areas of the brew group.
The necessary equipment for your portafilter machine:
As essential gear with suitable accessories, we recommend at least:
A tamper with an appropriate diameter and stainless steel base a tamper station to press the ground coffee in the filter holder.
Two milk jugs of different sizes for frothing milk (approx. 0.5 l) and pouring the espresso into the specialty coffee (0.1 l).
A tap box to tap the filter holder.
A Blind sieve for backwashing the brewing unit.
A brush for cleaning and brewing head cleaner.
Decalcifier, and grinder filter for the maintenance of your espresso machine.
The following parts are helpful, but not necessary:
Instead of the tapping box, we advise you to place a brewing drawer under the espresso grinder. The workplace not only looks clean and tidy, but the drawers are also more stable than the tee boxes.
A group round brush makes cleaning the brew group much more comfortable.
Shot glass, thermometer, and digital scale for practicing.
Mill brush for cleaning the espresso grinder.
Additional steam nozzles to accelerate foaming.
An additional filter holder with double outlet.
5. Fully automatic espresso machines: Highly complex wonders
Fully automatic espresso machines promise you particularly easy use: fill and press the right button. Some of them allow manual settings to vary the strength of espresso. Many fully automatic coffee machines are highly sophisticated machines. They are, therefore, more sensitive. For this, they usually offer not only a high level of comfort but also numerous gadgets. The different number of options available depends on the brand, model, and make of the device.
Related: You may want to checkout complete review of JURA e6, where we have covered all features provided in detail.
What coffee beans do I use in my super automatic espresso machines?
The first thing you have to know – and that you have deduced from what we just told you – is that you cannot put any type of beans in your coffee maker. The best type is natural grounds, and you should never use roasted grounds. The difference between a natural coffee and a roast is something that every consumer should know:
Natural Coffee
You can think of them as natural beans, which doesn't have anything extra added to them. The seed is the only ingredient present. The two main varieties are Arabic and robust. Although they can come from different countries, in general, the main producing areas of the world are in Africa, Asia, and Latin America.
The Roasted Coffee
It is the one to which sugar has beans added to the toast. Before the end of the process, sucrose or glucose syrup is added in a maximum proportion of 15:100, where 15 kg of sugar is added per 100 kilograms of beans and then burned.
This burnt sugar gives the characteristic dark color to your cup of espresso that, at the same time, subtracts the flavor of the infusion, providing a higher bitterness, which covers the original nuances of smell and taste of the coffee. It is odd because roasted beans emerged during the seventeenth century because of the belief that this roasting system maintained the natural properties of coffee for a more extended period. Over course, it has been proven to be false since it does not extend any features.
The burnt sugar of the roasted seeds, with the heat that the molars give off, becomes a kind of sticky caramel, which gradually adheres to the internal mechanism of the coffee maker, causing excessive and dangerous friction. If you put a handful of roasted beans in your hand, wait a few seconds and move it slightly so that the heat generated by your body melts this candy, you will see how, when you release the beans, your palm will be black and sticky
What are the advantages of using a Super automatic espresso machine?
The best of automatic coffee machines is their single-use, as simple as putting the cup and giving the button to prepare the drink. In a few seconds, you will have a freshly grounded and hot decoction; just worry about putting the beans and water. You can use natural, Arabic, or robust coffees with your machine, from the source you like best, or make your mixes.
A useful tip: Purchase beans only from specialized places.
Super automatic espresso machines are indeed quite expensive then the capsule machines, but it is quite suitable and cost-efficient if you are living in a vast family. You will find that the heavy price is justified and find better ROI over the period. In this post, you can see a comparison we made of the use of the two types of devices.
For all this, we recommend that you consider the option of purchasing an automatic coffee maker if you don't have one yet. One important thing, please, do not consume roasted coffee, your arteries and your heart will thank you.
Last but not least, you can get different types of beverages with just a click of a button! Not only that, you get a quality espresso cup, which can make you refreshed throughout the day. There are even different ways to control the content of hot water and pressure, which makes it easy to use, even for newcomers.
Another factor contributing to quality espresso is the pulse extraction process. For instance, JURA uses the Pulse Extraction Process or PEP, which makes it genuinely bean to cup coffee machine. And this extraction process is exclusive to the E series offered by JURA, which is one of the deciding factors to get your perfect shot of espresso. You can find more details in our detailed review, which we have posted recently
6. Capsule machine: Exactly one cup
Capsule machines are particularly suitable for singles and households in which everyone has their coffee preferences. You can prepare a cup using one single capsule. The capsule machines are compact and you will find that they require pretty less space. The problem with them is the amount of waste these tablets generate. It is therefore advisable to pay attention to recyclable materials and to properly dispose of the empty capsules.
What are the features of capsule machines?
1. Fresh Aroma, Always!
Another advantage of the capsule machine compared to many conventional variants of coffee making is that it preserves the sweet smell in the airtight, sealed capsule. A thorn opens the capsule before being scalded with hot water. This method also enables a particularly high vapor pressure and thus a perfect espresso.
2. Be attentive about compatible capsules
Since capsule machines only work with suitable tablets, you may be firmly bound to the respective manufacturer when purchasing these types of machines. Although the manufacturers generally offer a wide range of flavors and drinks, you should still include this factor in your purchase decision.
3. Quick brewing – cumbersome disposal
The striking argument for the pod machine is secure handling. In contrast to filter bags, portafilters, and loose coffee powder, brewing coffee with capsules is quick and clean. Even with portioning, nothing can go wrong with these machines; once you have found the right tablet for yourself, the coffee always tastes as it should. Disposing of plastic pods is problematic. Some manufacturers have set up collection points for the capsules to ensure effective recycling and reduce the environmental impact.
7. Pump espresso machines.
The pump machines are quite famous, and they start at a pretty low price of $100. There are quite a few models available from De'Longhi, which are pump machines. They are kind of semi-automatic espresso machines, which use different pumps for developing pressure and heating water. This ensures that you get a quality espresso and that too at a fraction of price! This heat generated is used for steam pressure wand, which is further used in frothing milk after brewing your drink.
Related: Our recommendations for the best bottled water to make the perfect cup of joey – Visit this link.
Which is the best among all types of espresso machines?
Well, this is really tough call. There are various options present in different price ranges, and definitely one I will recommend completely automatic ones as they are hand off solutions. If price is constraint, then you can go ahead and grab semi automatic ones or manual ones, which provide good price to performance ratio.